Hey there
fruitcakes
, it's your main man TC here with an update on all things important. I had such a great week in Hawaii and wasn't quite ready to play after attending
Snoop Dogg's
celebrity Luau on Saturday night so I told Coach McCarthy to just go with the other QBs. Fortunately it worked out and I was once again victorious in life. Anyway, it's great being back in the lower 48 and of course back in the Collins
Cheesecake Factory
Suite.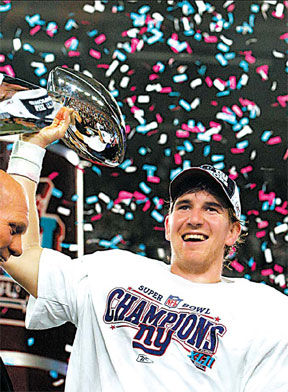 Although it was quite heartbreaking to see my New England Patriots go down in a blaze of fire, I was still happy for one member of the New York Giants.
Congratulations Amani
!!! Man, I'm pretty sure a word search into the Collins' blog will come up with a few favorites - coeds, grooming, no interceptions, Tom Brady, Cheesecake Factory,
Herbie Hancock
, and Amani Toomer. It's been a long journey for my old roommate but he proved what we already knew - that the Michigan class of 1994 rules! Amani's winning also shows that TC is due for his first NFL championship next year, so Redskins fans should be excited about that. Even if I'm in another city, I know you'll follow the career of TC. After watching the
Puppy Bowl
and tracking my Dominoes Pizza order online for the first three quarters, I was definitely on the edge of my seat for that very exciting 4th quarter. I guess the lesson we need to learn is that perfection is not achieved easily which truly makes me appreciate all my flawlessness.
In other news...we've got a new coach. Snyder must have been sensing the kind of cash that it will take to keep TC around so he didn't hire the big name most were expecting. I'd like to be the first to welcome
Jim Zorn
to Washington. Although Zorn will probably just be a figure head for the coaching genius of yours truly, it'll be nice to have a new "
boss
" around. Zorny has an impressive resume which includes... 4 days as the head coach of the Washington Redskins. After being hired as Offensive Coordinator three TC coeds ago, Zorn quickly moved up the ranks after a rousing rendition of "
Bust a Move
" by Young M.C. during a night of karaoke in Adams Morgan to which Snyder was in attendance. Snyder invited Zorn out for a jumbo slice followed by a
Julia empanada
and the rest is history.
If this truly is goodbye, then my time in DC has truly been special for the people of Washington. It even appears that TC has inspired a rock band. In fact, this Friday, February 15th, 10pm at the
Grog and Tankard
, you can see a band named
TC-15
which is clearly paying homage for my time here. These guys surely have fantastic taste, so I'm pretty confident it will be a good show and I might just show up to play some jazz flute. This should catapult TC to godly status now that I've inspired millions of people with my quarterbackin', pick up artistin', and rockin'.
Well as the saying goes, that's all folks. I look forward to blogging with you all as the off-season progresses and don't forget to vote because not voting is un-American and offensive to TC - a true
American Patriot
.
Todd Collins
#15