Good morning skinheads, TC here with his weekly update on the 2007 Washington Redskins football season. I'm just sitting here at the
Cheesecake Factory
in the
King of Prussia Mall
on my way over to Philly for our week 2 inter-division showdown against
Jason Avant
and the Eagles. Now, I'm sure you CF aficionados out there are well aware that the King of Prussia CF doesn't open until 11am. Good point, but, fortunately enough, after heated contract negotiation with Mr. Snyder I convinced him to allow three CF waitresses from the Wisconsin Avenue location to accompany the Redskins to all road games. Mr. Snyder eventually gave in after two weeks of preseason magic from yours truly. Now TC can continue his fine dining and fine blogging no matter where he is on the lower 48 states. Since it is still breakfast time, I'm drinking a tall glass of Shirley Temple with an extra spike of grenadine, and chowing down an Asparagus, Portabella and Artichoke omelette. On with the blog!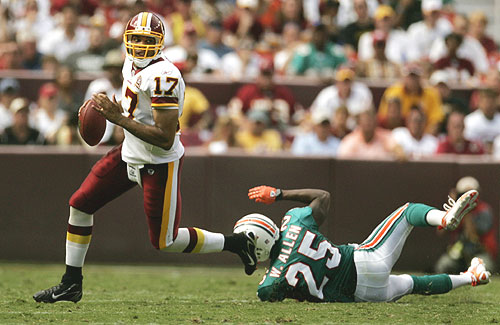 Week 1 was quite the exciting opener to the 2007 NFL season. I know that I have previously reported my status as a possible starter on this team. Unfortunately, last week came with a lot of emotional baggage for TC, so Joe, Papa Al, and myself decided it would be better to give Jason a shot against the Dolphins. There's a saying out there that all good things must pass – such as the relationship between Trent Green and myself. There are three people in this world responible for teaching me the tools necessary to running a high powered, unpredictable and efficient offense –
Lloyd Carr
,
Papa Al
and
Trent Green
. From 2001 through 2005, Trent groomed me into the QB I am today as I served as his back-up,
personal assistant
and best friend. As Trent reached the final stages of his Chiefs career and I became a free agent at the end of the 2006 season, I decided to sign with the Redskins knowing that Trent had given me the training to be a starting QB in the NFL. Trent told me thrilling stories of $1 beers at McFaddens, GTown undergrads at Rhinos, .10 cent wings at 51st State, trivia at Fado's, and many other reasons why DC would be a snug fit for a New Englander in his prime. I followed Trent's advice and passed his wisdom off to Papa Al, and the rest is Redskins history.
Needless to say I was excited to see my BFF Trent at the airport and as the jester I am, I picked him up from Ronald Reagan Airport with a limo driver's outfit and a big sign that said "Mr. Green." The limo ride back to my townhouse in Georgetown was filled with champagne, laughs and lots of memories. Much like when my good friend and fraternity brother Amani Toomer is in town, Trent and I spent an entire week catching up and partying like it was 2002 in Kansas City with
beer funnels
, keg stands,
beautiful coeds
, late night hot-tub parties,
jumbo slices
and post hot-tub twister.
I knew it would be bittersweet to win this week, and that's why I specifically asked to be held out of the contest.
Jason
has clearly not yet learned from my tutelage and keeps
throwing passes to the other team
, to which I must say I am very disappointed. Also, I must point out my disappointment in U of M
Tyler Ecker
who apparently felt he didn't need to show up, obviously hurt by the previous night's
game against Oregon
. Now, as you know TC was upset too and debated not showing as I've done many a time, but for a rookie to do such things is strictly unacceptable. However, in the end, God was on TC's side and it was very symbolic to see torch passed from Trent to myself when
Suisham's 40 yard kick
went through the uprights on 1st down – something Joe's been preaching in the off-season to keep other teams on their toes.
So there you have it, the Redskins are 1-0 and on pace to go undefeated. It's a very festive time in DC for all and I can hardly wait for what adventures week 2 might hold in store.
Todd Collins
#15
P.S. – I miss you Trent